ABOUT THE ARTIST
Simone Barbé
I had the pleasure of meeting an extraordinarily talented artist while attending a New England garden tour a few summers ago. I was about to leave when I spotted an astonishing display of --- garden art work? I drew closer and saw these were ornate coffee pots, charming creamers and whimsical teapots ... all mounted on decorative copper.
Some were filled with ivy and pansies, others with birdseed. That's when I realized! They were Vintage Silver Plated Bird Feeders. I wanted to buy them all! I couldn't help but ask, "How did you come up with this idea?  "These are absolutely gorgeous!"  Simone told me that she'd always been attracted to vintage silver.  A passionate gardener always in search of unique planting vessels, she never found quite the right object. While planning an afternoon luncheon, she hastily planted purple pansies in a silver chaffing dish.  As time went by and the flowers went to seed, the chaffing dish planter became a bird feeder. 
            Silver Palate Feeders started in 2002.   Since then Simone's one of a kind feeders have been showcased in hundreds of art and garden shows across the country.  Her work has been featured in newspapers and magazines and has won many prestigious awards. Each of Simone's pieces are  one of a kind, signed, dated and numbered. These Vintage Silver Plated Bird Feeders will surely be the most coveted "objets d' arte" in your garden.
                                                                                                        Christina Christensen
                                                                                                                                     an avid collector
Simone Barbe' is a native of New Orleans and has lived in Raleigh, NC since 1998. She has two wonderful sons and a very supportive husband.
CONTACT INFORMATION
Simone Barbe'
4105 Westwood Place
Raleigh NC 27613
919 787 7574
Join Our Email List
Email:  
For Email Marketing you can trust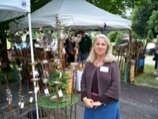 Enter Textsilverpalatefeeders.com simonebwilson@gmail.com